News and info about the con.
The generous team at 44Con have donated us a ticket (worth £340) to their event in September and we need to give it away. Rather than do a competition or random draw we've decided to give it to someone who deserves it and we need your help.
Please get in touch and nominate someone you think should get the ticket and give us a reason. It could be for helping others, for a major contribution to a project, for deserving to go but not being able to afford to, you tell us why the deserve it. The ticket won't cover all expenses but under a scheme to be published shortly, there will be the option for help to cover at least some of them.
Send your nominations to info@steelcon.info, entries close at noon on June 1st.
We have chosen our first training provider for 2018, Scott Helme and "Hack Yourself First".
For more information on training, see our training page.
In the past few years we have asked people to get a party ticket just so we have a rough idea of numbers but this year we are going to make it a bit more formal.
Last year, some people, to put it nicely, took advantage of the bar tab and so we got through it quicker than we were expecting. To try to stop this from happening again this year we are introducing a system so everyone can get a fair share.
We've considered lots of different ways to do this and this is what we decided:
If you are coming to the party party, please take a party ticket from Eventbrite.
We will divvy up the tab amongst everyone who has asked for a ticket when the sales close at the end of the day on Wednesday 5th.
When you register on Saturday morning, you will show your conference ticket to get in and also your party ticket. You will then be issued your party pack. Remember, you must have a main event ticket to be allowed in the party.
If you don't have a party ticket and your plans change come find one of the Gaffers and we will sort you out. Or you could find yourself someone on expenses with a nice company credit card.
It took a while, mostly due to me being slow at getting things sorted out, but Bliss got their share of the £1600 that we raised this year. A huge thanks to everyone who bought from the bring and buy, entered the raffle or just threw cash into the collection bucket.
Robin and the crew.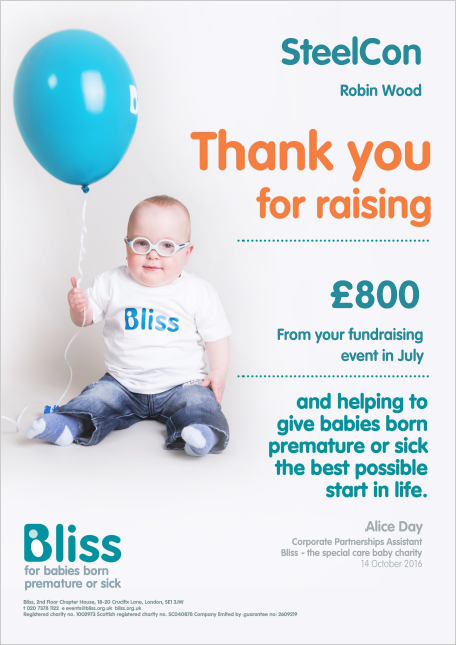 We've finally got all the media from the event online, here are the links to it all:
Videos
After a stellar performance by Cooper, ably assisted by Cal, this year's videos are the best ever.
What made it even better was the live streaming on the day for those who couldn't physically attend.
Photos
Thanks to Chris Ratcliff for doing the photography on the day and to Jamie Duxbury for giving us the shots he took.
Due to "age restriction problems" on Flickr we've moved to hosting the photos with Google this year. We will probably move the old archives over at some point as well.
This year's goody bags contained an amazing build-it-yourself combination lock supplied by Madbob. For those who haven't managed to work out how to build it themselves yet, here is a video the team put together for you.
Last year we ran a "bring and buy" table for IT and security related books, raising £100 for the premature baby charity Bliss.
We are running the table again this year and extending it to include hardware. Do you have old kit lying around at home, collecting dust that you think might be valuable to someone else? If so, bring it along. If there is something special about what you are bringing, such as the power supply is dead or there is a loose connection somewhere, then please bring a note to put on it so people know what they are buying.
If you've nothing to bring, make sure you've got some cash on you and space in your bag or car so you can take something home, as all proceeds will go to charity.
For the last two years your ticket has granted you access to a day full of amazing talks, a lunch including ice cream from one of the best producers in the country, a true northern dinner and enough free drinks at the party to make everyone merry, but this year we are going a step further, we are adding workshops!
We are going to make Friday afternoon Workshop Time. At the moment, the plan is to run between four and five sessions between 1PM and 5PM but depending on numbers this might open up to the morning as well.
So as well, as looking for CFP submissions for talks, we also want workshop submissions. We want either two or four hour sessions and are looking for anything hacker related. We are expecting the usual "this is how to hack product X" but, in line with our range of talks, would also like some on soft skills and other none technical topics. These all have to be carried out in university provided rooms so please consider this when coming up with ideas, if you are not sure if something is appropriate then please get in touch and we will make a decision.
Once we have the schedule sorted out we will open ticketing to let you book your seats and, as said before, this is all in the one ticket, this is not an extra cost, just reserving seats for bums.
After a lot of hard work by Luke, Cal and Tom we've finally got the videos sorted and uploaded. Not all the talks were recorded and not all the recordings have made it through to being published, this is because, despite all the work put in on the day and in post production, the quality is no where near what we would have liked due to a number of problems including:
Cameras failing
Memory cards filling up
Microphones not picking up what they were supposed to
Picture in picture accidentally being turned on during recording losing a chunk of screen space
Poor lighting in track 2
Various other little niggles
We've learnt a lot from this and plans are already in place for next year where we hope to be able to do live streaming, this should mean problems are picked up straight away and the recordings are ready for release within days not months.
Apologies to the speakers whose hard work didn't make it through, if you want to see what we have we can send you what we have of your talk, just get in touch.