Daily Archives:
July 8, 2019
For those attending SteelCon and staying in Sheffield for a few days, you're in luck! Sheffield is an increasingly foodie city, with a great selection of food to suit different tastes. Here are just a few selections from the SteelCon team that we particularly like.
I fancy…
BBQ – Smoke BBQ https://www.smokebbq.co.uk
A fixture on SteelCon recommended lists, this is proper BBQ cooked low and slow with plenty of wood smoke. Don't go here for a light meal, this is hearty portions and heavy on the meat. The ribs are some of the best you'll find this side of the Mason-Dixon line.
Coffee – Tamper Sellers Wheel https://tampercoffee.co.uk
Just a couple of minutes walk from our Sheffield Hallam location, Tamper's New Zealand-influenced cafes brought the flat white to Sheffield, and is a fantastic, smooth caffeine shot for those who want more then espresso, but not a heavy latte (though those are also excellent). Up front is a take away counter with pastries from Depot bakery, while grab a table and enjoy a good breakfast or lunch.
Tea – Birdhouse Tea Bar and Kitchen https://www.birdhouseteacompany.com/visit-us/tea-bar-kitchen/
If your tastes are more tea than coffee, a few minutes away is Birdhouse's new tea bar. Birdhouse have been blending tea in Sheffield for several years (and their blends have names like Kelham Island, Peace Gardens, and Seven Hills) and now you can try their tea, try different drinks like a Matcha Latte, and have something to eat. It's also a great place to explore their different teas and try something new.
Cocktails  – Botanist, Leopold Square https://thebotanist.uk.com/locations/sheffield
A huge range of spirits, garnishes and bitters don't mean much unless you've got good bartenders who can make the most of them, and the Botanist delivers. Don't be afraid to ask for substitutions or something off menu too. There's a good restaurant upstairs too that's almost worth a visit for the décor alone.
Mexican – Street Food Chef http://streetfoodchef.co.uk
With several outlets around Sheffield, Street Food Chef has made a great name for itself doing classic Mexican dishes really well. Close to Hallam University is their cantina, with seating to eat in and enjoy hot salsa and a cold cerveza. Their beef burrito is amazing, but the El Bastardo challenge is only for the brave.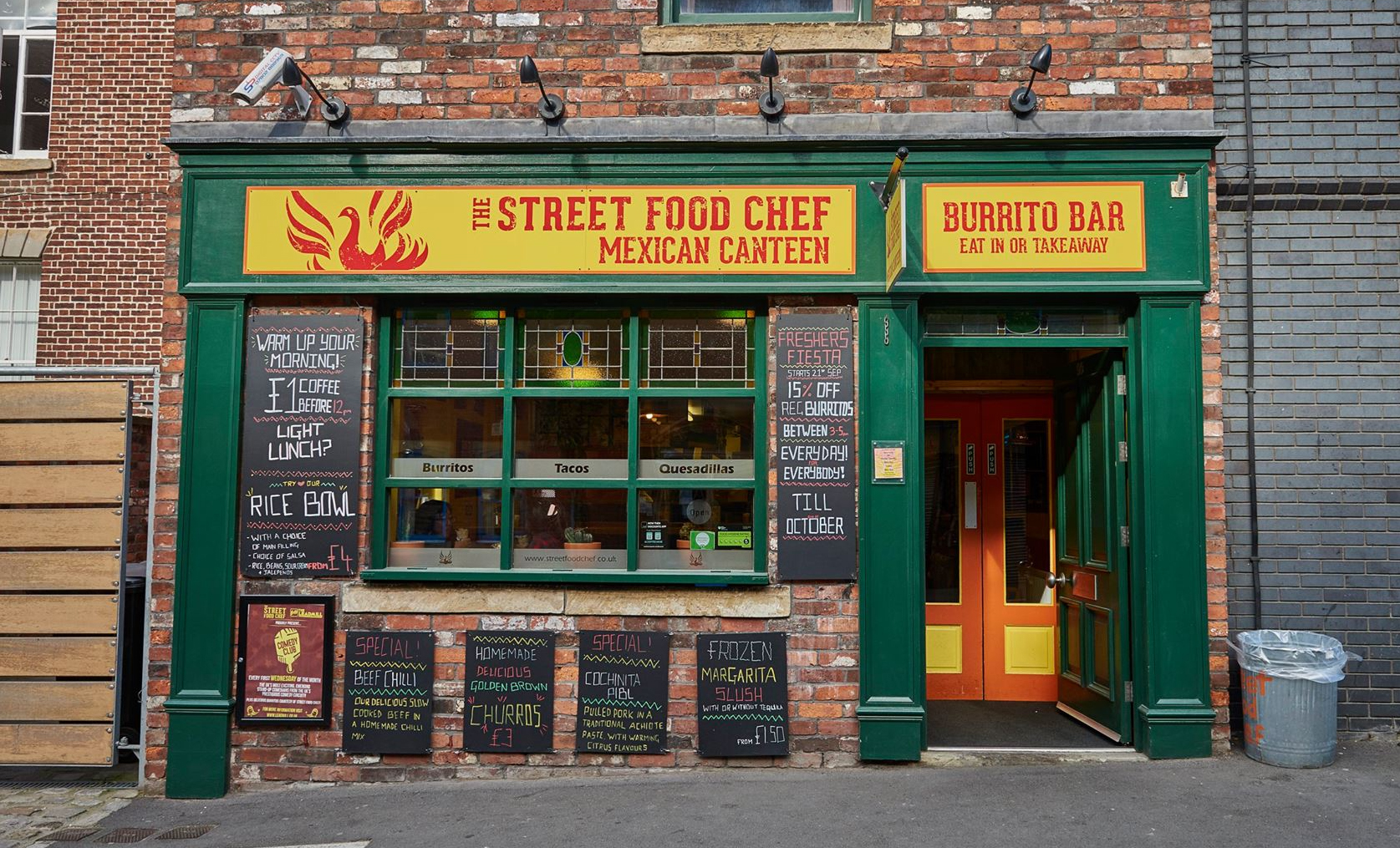 Something Different – Ambulo http://weareambulo.com
Taking up home in the Millennium Gallery, opposite SteelCon's Hallam University location, Ambulo does both classic dishes like Eggs Benedict or a Fish Finger Sandwich and ones with their own twist. A particular favourite is the Korean Fried Chicken Crumpet, big enough for a lunch, beautifully fried chicken and a sauce that is tangy without being overpoweringly chilli. They also have cocktails like Negronis and Old Fashioneds on tap.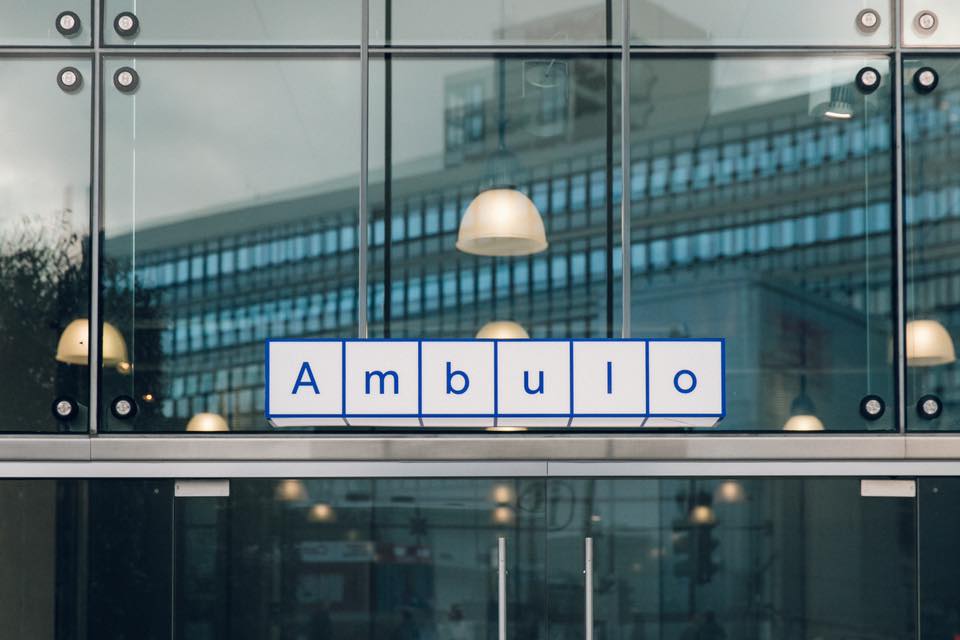 I'm Not Sure – Kommune http://kommune.co.uk
A short walk from SteelCon, on the ground floor of an old Co-op department store, is Sheffield's latest food hall. This is a great option for groups as each can pick from pizza, Indian street food, burgers and others and then all sit together and enjoy. The food is really good with small vendors specialising in one style to great effect. The space also incorporates a book shop, an occasional pop-up cinema, and just next door is the National Videogame Museum too!
Craft beers and real ales – Sheffield Tap, Sheffield Train Station http://www.sheffieldtap.com
A highly regarded pub with a dizzying array of beers from around the world, their own brewery on site, and all housed in beautifully renovated Edwardian rooms.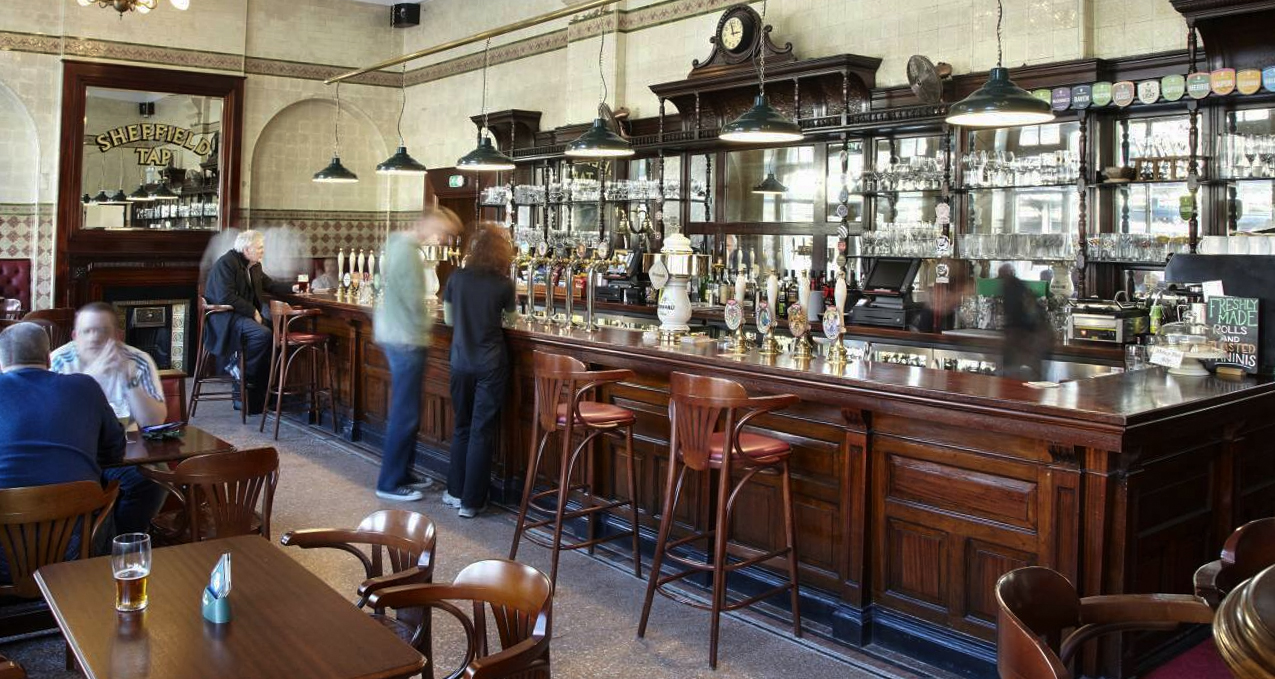 Further afield
Ice cream – Our Cow Molly http://www.ourcowmolly.co.uk
A fixture since the first SteelCon, we love Our Cow Molly! Going to the farm and seeing their herd of cows on one side of the yard while their milk and ice cream is being sold on the other really brings home how good local produce can be, with the milk being pasteurised and bottled on site, as well as the ice cream being made there too! It can get very busy on a sunny afternoon, so it's good to go early doors. It's also known for experiencing some of the highest winds in Sheffield when the weather's bad!
International Variety – London Road
Just past the ring road, London Road is a melting pot of international cuisines. Some come and go, while others have become well known over the years. From Turkish to Japanese, hot pot to satay and beer, London Road rewards the curious and is always changing. It's also well worth a visit to shop for ingredients that you won't find in a normal supermarket!
The New – Kelham Island
Kelham Island to the north of the city centre is undergoing a huge change. There's still companies there doing powder coating, fixing, welding and casting, but it's become so, so much more than that. At the heart is the Kelham Island Museum – an interesting trip through Sheffield's industrial heritage and a chance to see a cocking massive steam engine running – and the Kelham Island Brewery. The brewery opened thirty years ago, and was the first in Sheffield for a hundred years before that. However two more have opened recently in the area, joining Sheffield's first food court, a monthly street food market, a cheese maker, a retro gaming bar serving great vegan fast food and more. There's a great intro to the area here: https://www.youtube.com/watch?v=TiCQN77R1go